Make packing up for your move cheaper, faster and easier than using new or used cardboard boxes with our Zero-Waste system!
Welcome to Rent A Green Box, the first Zero-Waste pack and move solution in America! Take advantage of our world-famous rentable and reusable green recycled plastic moving boxes called Recopacks.
Cut your moving costs in half with Rent A Green Box!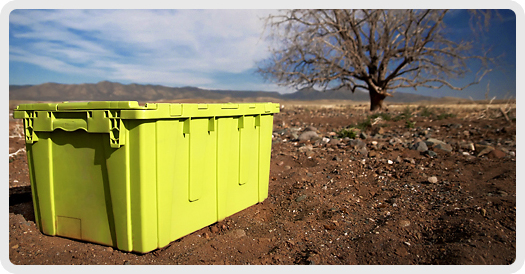 Cheaper
There really is a better way!
If you're getting ready to pack up for a residential or business move, we've got great news for you. It's no longer necessary to go out and buy a bunch of new or used cardboard boxes (or scrounge around for some old ones), use them once and then throw them away! Now there's a better way that's good for your wallet and the environment: our world famous rentable and reusable green moving boxes, called Recopacks.
Renting Recopacks is cheaper than buying new cardboard moving boxes. Delivered in three consumer friendly sizes, pre-assembled and ready to pack the second we deliver them to your location. Movers can stack them higher in their trucks, load and offload faster reducing labor dollars at both locations. Crush proof Recopacks protect your property during transport and you don't have to worry about paying extra waste disposal fees with our Zero-Waste moving alternative. When you're done moving, we pick them up, hand inspect, clean, sanitize and then rent them to another client. We're in business to save you time, money and our Planet!
Faster
It's incredibly easy
Recopacks are available in 3 consumer-friendly sizes, with no assembly required. Your order of Recopacks will be delivered direct to your door and then picked up after you have them all unpacked.
They've got comfortable handles, stack perfectly, are easily locked during transport (eliminating potential theft of your valuable property), are crush proof, dust-proof and water resistant. Each Recopack is hand inspected, cleaned and then sanitized before and after each use. Movers love them too because they stack higher, load and unload faster, and don't fall apart like new or used cardboard moving boxes.
In short, Recopacks are the perfect moving boxes for a country on the move, without trashing our environment. We rent Recopacks in weekly time blocks, giving you time to pack up before your move and unpack once you get there. If you need an extra week because of an unforeseen delay in your move, don't worry, our rates are discounted for additional weeks.
It's just that simple- It's moving made simple.
Easier
Stress and Waste Free
We help you determine the right amount of Recopacks for your upcoming move, show you how to best use our Recopacks and best of all, if you need some extra Recopacks at the time of delivery, we always carry more on our delivery trucks. Our Eco-agent's are here to help you make a smooth, stress and Waste-Free move. Think about all the time you'll save by not building and breaking down cardboard moving boxes on your move!
Greener than Cardboard
Cardboard moving boxes don't make sense
Do you ever wonder why we're cutting down our trees to make cardboard moving boxes that are used once, maybe twice, and then tossed into a landfill? After all, cardboard boxes aren't just wasteful and inefficient, they're also expensive, hard to tape, hard to stack, easily crushed, dirty and dusty. With over 16% of the population packing and moving each year, don't you think it's time for a CHANGE?
Be part of the "green" solution
You have the ability to choose between disposability and sustainability - and you'll be excited to learn that choosing sustainability and moving green actually saves you money!
You'll cut your moving costs in half by using our Recopacks.
They make it easy for you (and everyone else in the country) to have a Zero-Waste, Guilt-Free move. Recopacks, are made from recycled plastic trash, eliminate the need to pack and move with new or used cardboard boxes.
A clean box is a green box
Each Recopack is inspected, hand-cleaned and then sanitized before and after every use, and lasts for over 400 uses before we recycle it into another Recopack. By saying "YES" to Recopacks and "ADIOS" to cardboard boxes, you're joining us on our mission to change the way America packs and moves, without trashing our planet!
Customer Service Fanatics!
Work with the market leader
At Rent-A-Green Box, we're absolutely fanatical about using trash as a new untapped resource to help save our planet. We created this industry, we built it and we lead it. We've earned countless local, state and national awards for inventing a better, greener way to move. You can count on the fact that we know more than anyone else about how to save you time, money and the environment when you pack and move.
In addition to being "Champions of the Environment", we're also famous for our award- winning customer service. Check us out on Yelp (where we've received a 5-star service record for five years in a row), BBB, Angies List, Kudzoo and our Facebook fan page.
Let's get started
The Best Move You'll Ever Make!
Hopefully by now we've got you convinced that renting a green box is the cheaper, faster and easier way to pack and move your property. So let's get started!